Migros
Fresh, fast, always available
Exceptional direction detection and no-touch loading verification of  6000 pallets per day
"20 doors / 6000 pallets daily: a densely packed loading area with roughly 1000 stray tags per gate, up to 500 tags on each forklift load. And all bi-directional. Thanks to Turck Vilant Systems exceptional stray-read filtering, the challenge was overcome."
6000 pallets daily
identified securely
Flawless
direction detection
100%
verification on handling unit load
No-touch
loading process
The Customer Challenge
Migros has been actively pursuing logistics automation with RFID by deciding to retrofit all of its 10 million returnable transport items (RTI) with GS1 Electronic Product Code (EPC) standard Global Returnable Asset Identifier (GRAI) UHF RFID labels. An array of applications is enabled by the possibility to automatically read these load carriers.
Migros Ostschweiz decided to automate the loading verification process of its 120 door distribution center, serving more than 200 retail outlets in eastern Switzerland. Migros implemented an Electronic Product Code Information Service (EPCIS) system to save and share all relevant information regarding logistic units.The recipient of each RTI is stored in the EPCIS when the goods are packed. By this the staging area and loading can be controlled with RFID.
A solution was sought, that could handle the immense UHF RFID tag density of a Migros distribution center, as well as the large amount of doors that could all be operational at the same time at peak hours. The daily total loading volume is 6000 pallets and during peak hours the area is densely packed. This means around 1000 stray tags per gate, up to 500 tags on each forklift load and simultaneous loading on up to 20 doors at the same time. The system was defined to be bidirectional, meaning that turning around inside the loading gate, or any other abnormalities of the loading process should not create false information on the status of each handling unit.
Highlights of the System
Migros did not, and would not implement an SSCC pallet barcode label based loading verification process, as introducing the manual scanning of 6000 pallets daily would introduce an intolerable amount of additional work – including creating an SSCC labeling process for all different upstream flows.
The RFID solution is able to tell whether a single pallet is factually loaded or not. Earlier the whole daily order amount was booked at once to the store, even if some of the items for later shipments were still at the staging area. High volume stores are delivered up to eight times per day, this has led to false reorders or out of shelf situations, since the short replenishment cycle makes it critical to know what is actually on the truck. It answers the question if the daily replenishment has arrived yet and is it again sold out or is the old replenishment order still pending delivery.
The pallets change ownership when leaving the distribution center. With factual pallet level loading verification it is much easier to trust the process and the numbers, since mistakes or missing deliveries are not just booked on the stores inventories automatically on a batch run.
Completely no-touch loading verification of RFID equipped handling units with 100% direction detection, 100% handling unit identification for huge tag amounts, both stray tags in the area and inside loaded handling units
Real time visibility on loading status and 100% verification of factual handling unit load
Completely automated traceability for handling unit status and delivery verification including change of ownership at dock door for products
The Turck Vilant Systems Solution
Vilant implemented an RFID gate solution that is based on the lightweight gate design of overhead antennas. No equipment was positioned next to the dock doors, or on the floor, that would obstruct the forklifts. The smart readers were equipped with Vilant Engine software which is able to monitor, filter and decide the movement direction of each handling unit on the reader itself.
Vilant Device Manager Server, as well as Vilant Visibility Manager Software, were installed as the central instance of control and process monitoring. Vilant Visibility Manager acts as the status monitor of the Handling Units, as well as the integration platform to Migros central EPCIS repository. The EPCIS repository is collecting the movement events of each process step.
The central Vilant Server solution is capable of handling around 6500 RFID tag movements per second (on one server node). The actual detection speed per gate scaling up 700 tags per second with each independent and autonomous reader operating in the highly scalable Dense Reader Mode. Migros operates 2 server nodes, so the entire daily RFID tag load of the distribution center could be handled in roughly 1 minute of server time.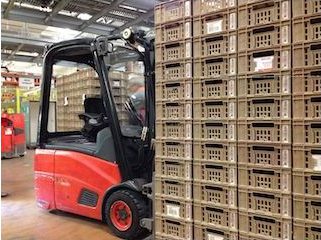 Solution Components
Solution Hardware
Vilant Gate RFID Reader System – High tag density direction sensing of RFID tag equipped Handling Units
Vilant Forklift Reader Unit – Identification of handling units during staging
Solution Software
Vilant Engine – direction detection algorithms for handling unit status running inside RFID readers
Vilant Client – Forklift PC Software for Error and Status information
Vilant Device Manager – Technical system health monitoring and alerts
Vilant Visibility Manager – Process control and EPCIS event integration
Migros is Switzerland's largest retail company, largest supermarket chain and largest employer with 86 000 employees. With its revenue of 24 billion Swiss Francs (19 billion Euro) it is also one of the forty largest retailers in the world.
To this day, Migros keeps the cooperative society as its form of organization. Nowadays, a large part of the Swiss population are members of the Migros cooperative – around 2 million of Switzerland's total population of 7.2 million. More than 90% of the assortment of goods is produced by ninety subsidiaries of Migros.
Questions on RFID?
Contact us with this form.
With more than 15 years of experience we are the ones to kick start your RFID project. Don't hesitate to leave your contact details below for our experts to contact you for more information on our Solutions and Refences. You can also find the direct contact details of our Sales team here.