Strengthening our sales team
Everybody, please welcome Günter Rössler among the RFID Experts at Turck Vilant Systems!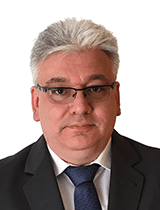 We at Turck Vilant Systems are excited to welcome Günter Rössler as our new Business Development Manager in Germany. Günter has 30 years of experience from the Auto-ID market having worked with barcodes, imaging technology, mobile devices as well HF and RFID technologies.
"In my previous role as Senior Sales Manager for RFID Solutions I covered Automotive and Transport & Logistics markets especially and saw many of my customers deciding to invest in production tracking as well as spare part and inventory management to gain better supply chain transparency", says Günter.
In the past seven years we at Turck Vilant Systems have witnessed accelerated growth in the adoption of UHF RFID technology among our industrial customer segment especially. Thus, we jumped at the possibility to add strength and knowledge to our team by recruiting Günter as a part of our team. We feel Günter really complements the RFID consultancy knowledge and skills of our existing Central European team.
Once more, welcome Günter!
Here's how you can reach Günter
Günter Rössler
Business Development Manager
Tel.: +49 173 168 1966
gunter.rossler@turckvilant.com
Questions on RFID?
Contact us with this form.
With more than 15 years of experience we are the company to kick start your RFID system project. Don't hesitate to leave your contact details below for our experts to contact you for more information on our Solutions and Refences. You can also find the direct contact details of our Sales team here.
Complete this form to contact or book a meeting with our RFID expert.