How using RFID in warehouses helps solve your issues with lost assets
Heikki Haavisto
Sales Director, Northern Europe and Americas
We asked Heikki Haavisto, one of our most experienced RFID professionals, to share his experiences with asset loss and the impact RFID can have on inventory management.
Over 250 visited companies, discussion with about 1000 – all around the world – let's learn from Heikki!
During my career in selling RFID systems, I have visited over 250 companies around the world and had discussions with around 1000 companies. All of these companies have been thinking of implementing RFID into some area of their manufacturing or supply chain.  At some point you notice, that many companies have same false assumptions on how RFID works or how RFID should be used to find lost assets.  For this reason, I've decided to write a blog series about "Busting RFID myths".
In this first series I will discuss the myth of using RFID for locating your misplaced assets
Many times, I get a lead for a customer looking to mount overhead RFID readers around their facilities so that they could see real-time where their assets are. In these kind of cases, I typically ask the customer: Why don't you know where your assets are? Typical answer is that operators forget to scan barcodes of the assets when they are moved to new location, and for this reason it would be cool to have a system that shows on map where the assets are real-time!
On average my customers spend 1/5 of a man-year searching their assets due to errors related to inventory management
At this point I usually take a different approach. I ask the customer, wouldn't such a system be better where your inventory is always correct. So when you check for an asset location in the Warehouse Management System (WMS), you can actually rely on the data.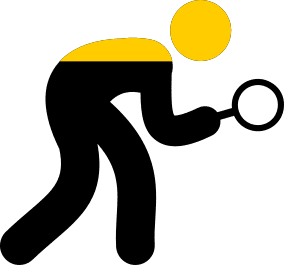 Then I move to explain, that Turck Vilant approach is to equip forklift trucks with RFID readers and different warehouse positions with RFID tags. This way when an asset is moved from one warehouse location to another, the location is automatically updated to their Warehouse Management System (WMS) ensuring inventory data is up-to-date at all times. Better yet, this approach costs the fracture of the customers' initial idea of placing ceiling mounted RFID readers around the facility. At this point, customer is typically fully onboard with my idea. If you'd like to read a short introduction to how our customers typically use RFID in their warehouses manage their inventory better click here.
When I started writing this blog, I also took the time to review the different customer cases in which I've been involved in to put together some key figures and experiences. I was amazed to realize just how big an impact RFID has had on my customer's business.
3 key benefits using RFID in warehouse offers to users
Automated scanning of assets saves more than 1,5 man-years of labor
The RFID provided inventory management ensured up-to-date data on asset location and thus asset search time decreased nearly to zero
Clear drop in production disturbances thanks to better ability to plan based on material availability
Questions on RFID?
Contact us with this form.
With more than 15 years of experience we are the company to kick start your RFID system project. Don't hesitate to leave your contact details below for our experts to contact you for more information on our Solutions and Refences. You can also find the direct contact details of our Sales team here.
Complete this form to contact or book a meeting with our RFID expert.