The RFID market grew 23% from last year with Finland as a top country
NFC payments, public sector ticketing solutions and shopper experience stories – solutions that are close to our everyday lives tend to get the priority in public when RFID is discussed. With the recent statistics in the development of the RFID market shows us that the vast majority of the business lies in the "behind-the-scenes" traceability applications – be it now in retail or supply chain.
The statistics show a growth of 23% in tag IC sales from 2017 to 2018. From a long-term RFID vendor perspective this is great news. For Turck Vilant Systems it means our market is growing and the opportunities for all players look good. We at Turck Vilant Systems started out with delivering traceability systems to highly expensive components and parts, but these days it pays off even to track and trace empty boxes, cartons, roller cages and pallets.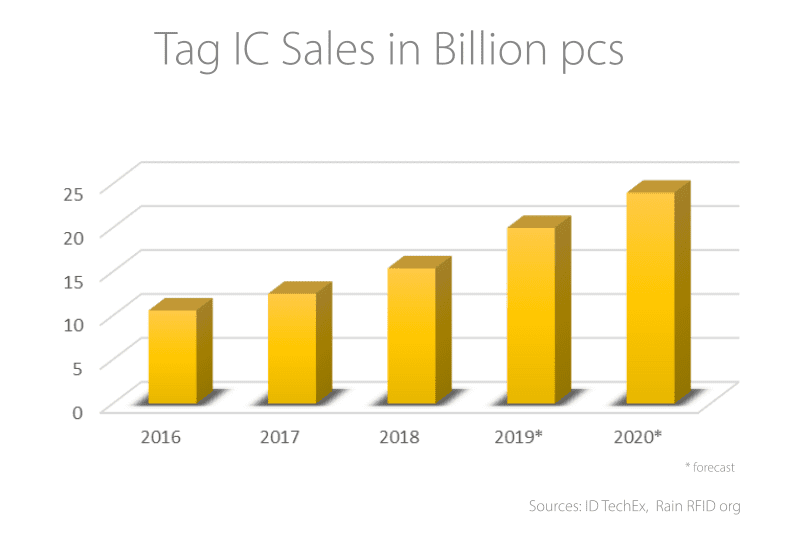 From the early-starters to the big majority – the market is moving towards more integrated and wider RFID systems
"RFID projects today are all about being smarter in business operations", says Sami Oksanen, our Business Development Director. "Think about the ABB factory in Vaasa: they were under the threat of being closed down, yet the decision to invest in automation – part of which was the RFID traceability project – has made the Vaasa factory one of the most succesful worldwide." Turck Vilant Systems with nearly 20 years of RFID expertise clearly sees a recent transition from closed-loop RFID traceability systems to overall digitalization projects, where the whole service concept of a company is renewed.
According to the EU Digital Economy and Society Finland ranks 3rd in the use of RFID in business environments when it comes to businesses employing over 10 people. In the past 4 years the number of companies with RFID deployments has doubled. "The clearest benefit of RFID lies in the automatization. Manual registering of goods takes up time and is prone for error – something RFID can help prevent " says Sami Isomäki, who leads the Finnish RFID Lab, a non-profit organization promoting RFID technology.
We would love to engage in a conversation with you. If you would like to find out more about the RFID market and how to use RFID in your business, please fill in the form below or contact one of our RFID Experts directly, you'll find their contact details here: Turck Vilant Systems Team
For additional information, fill in the form below (or contact our team)
Questions on RFID?
Contact us with this form.
With more than 15 years of experience we are the company to kick start your RFID system project. Don't hesitate to leave your contact details below for our experts to contact you for more information on our Solutions and Refences. You can also find the direct contact details of our Sales team here.
Complete this form to contact or book a meeting with our RFID expert.